Digital Support for Businesses
There is a lot of digital support that businesses can access across the Liverpool City Region.
Edge Hill University is holding a digital marketing ambassador student placement scheme in January. More information can be found here.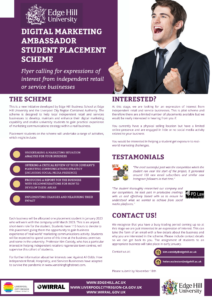 Digital Skills for the Workplace
Digital Skills for the Workplace provides flexible hands-on courses of up to 16 weeks in duration, which are part of the government's Lifetime Skills Guarantee and Plan for Jobs.
The Skills Bootcamps are flexible and hands-on and will enable you to build up your digital skills to enhance your employability.
Liverpool City Region was one of just six areas nationally to trial the skills training aimed at helping participants to find jobs in the growing digital and tech sector and help employers to fill digital skills gaps in their business.
The programme is funded by the Department for Education and developed locally by the Liverpool City Region Combined Authority, working with local employers.
The training is open to adults aged 19+, either in work, looking for work or returning to the workforce. The courses are intended to be as inclusive as possible, to increase diversity within the digital and tech sector.
Liverpool City Region Combined Authority will offer the following 7 Bootcamps:
Skills Bootcamp in Full Stack Web Development
Skills Bootcamp in Digital Marketing
Skills Bootcamp in Cyber Security
Skills Bootcamp in Digital Design
Skills Bootcamp in AutoCAD
Skills Bootcamp in Software Developer/Engineer
Skills Bootcamp in Infrastructure Technician
Additionally, employers who are considering recruiting new talent within the above 7 digital areas may wish to speak with us about interviewing newly trained individuals.
For more information or to register please visit the Liverpool City Region Combined Authority Digital Skills for the Workplace webpage
Help to Grow: Digital
Small and medium-sized businesses across the UK can now access free and impartial online support to see how digital technology can boost their business performance.
Eligible businesses can also apply for a discount of up to 50% off the purchase of approved software from a range of leading technology suppliers, worth up to £5,000.
With many businesses needing to adapt the way they do business during the pandemic, the support the Government is offering through Help to Grow: Digital will help them to improve their productivity and take the next step to grow.
To find out more visit the Help to Grow: Digital webpage
Google Digital Garage
Accelerate your career or business with an online digital skills course in everything from marketing to coding and beyond.
Discover courses in topics designed to help expand your career, business and horizons and to upgrade your skills for a new digital world.
Find out more at Google Digital Garage
Free two-day workshop in digital media and marketing
Training provider 'Training Unlimited' is offering free two-day workshops in both digital media and marketing to Liverpool city region businesses.
Fully funded by the Liverpool City Region Combined Authority, the workshops are being delivered by training provider Training Unlimited. There is a quick process where firms are asked to register online and confirm their interest.
Both workshops last for two days. The digital media course offers an introductory understanding of how to use online digital platforms.
For more info or to register your interest please email jan@trainingunlimited.co.uk