News & Publications
Tickets on Sale for Comedy Festival at Salt and Tar in the heart of Bootle
Tickets are on Sale for Comedy Festival at Salt and Tar in the heart of Bootle. Salt and Tar is ideally located in between the Liverpool-Leeds canal and Bootle Strand. It is a brand new outdoor food and event space: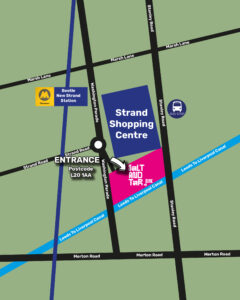 Tickets for the comedy festival start from just £5- Use this link to buy tickets for the Comedy festival. and enter offer code SEF1205 to claim a discount on tickets.
Top comedians headlining over the weekend include:
Friday 26th May – Merseyside comedian Chris McCausland alongside Patrick Monahan and Nina Gilligan in the curtain-raising Comedy Night.
Saturday 27th May – Bingo Nights UK, hosted by comedian and presenter Brendan Riley, will bring their Disco Bingo show, the entire room up and dancing, while raising money for charity.
Sunday 28th May – Jason Byrne, Jo Caulfield and Scott Bennett will be performing.
Saturday 27th and Sunday 28th May will also see family-friendly fun come to Salt and Tar, with comedy bingo featuring Britain's Got Talent star Steve Royle, and Martin "Bigpig" Mor presenting Funny Stuff For Happy People.
*Salt and Tar was named to connect Bootle's rich industrial heritage, with the Brotherton's Tar Distillery on Hawthorne Road and the area's historic link to the salt trade. The space will include a brand-new food and drink offer, street-food, markets, and outdoor events, as well as a focal point and space for community uses and public events and activities to take place.