News & Publications
Successful Digital Workshop!
A huge thank you to everyone who attended one of our Digital Workshops yesterday, led by Julie Swarbrick from InvestSefton and Callum Jones from Antrec Limited.
Following the unexpetected snowfall in the early hours of Thursday morning we did not expect as many people to turn up as they did, so a big thank you to everyone who came to either the morning or afternoon session.
If you would like to attend any future InvestSefton events, or if we can help you with anything else then please contact us on 0151 934 3452 or info@investsefton.com – any business, any size, any sector!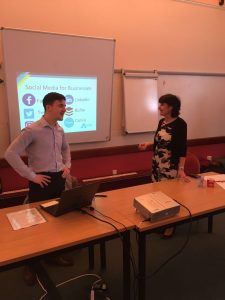 Callum and Julie leading an interesting discussion on Social Media 🙂